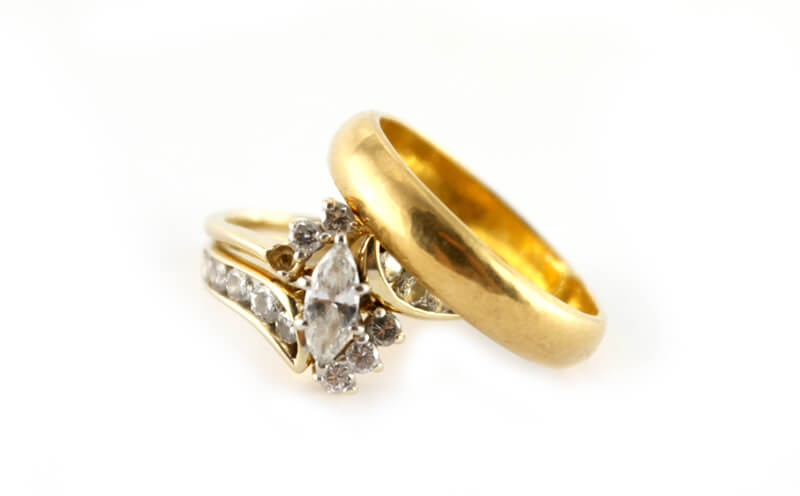 You have cherished memories of your Great Aunt Lizzie during the holidays. When she passed away, you may have been thrilled to inherit her prized brooch with rubies she proudly wore at every formal occasion.
The only thing is, brooches aren't really your style. What do you do with it?
If you like the design, you can have a clasp added and wear it as a statement pendant. That way you can enjoy the piece rather than keeping it as an artifact in your top drawer.
Some jewelers say it is better to preserve a historical piece. Before you make significant changes to an heirloom piece, you might want to get it appraised so you know the age and the value you're dealing with. Once you alter a historical design, most of its value is often lost.
Wear an old design in a new way.
Sometimes altering an heirloom piece just a little will give you a new way to wear it.
Brooches

Transform them into pendants.

Screw-on earrings

Your grandmother may have worn dazzling pearls back when Jackie Kennedy set the fashion trends. You however, have pierced ears. We can transform almost any style of earrings into pierced earrings.

Pins

Maybe your father earned a bunch of pins in college. You can turn them into a lovely charm bracelet.

Bracelets

Wrists were smaller a few generations back. You can have an extender added or get creative and turn strands of beads into earrings.
Refashioning something new from something old.
If you really don't like a piece or if it is damaged, you can honor a memory of a loved one by incorporating the metals and stones into a new piece that you'll wear everyday.
You can work with us to give old gems new life as a new piece. For ideas on how to use your stones, look at magazines or Pinterest for inspiration and be sure to share your ideas with us. The more input you give, the more your new custom piece will reflect your taste and style.
Before you make any changes, check with the giver.
If the person who gave you the heirloom jewelry is living, make sure you talk to them if you want to create a new piece. Perhaps your future mother-in-law gave her mother's engagement ring to your fiancé to give to you. You love the stone but the setting isn't your taste. If you want to reset it, have a conversation with your mother-in-law-first. You don't want it to appear as though you are rejecting her gift.
Work with a reputable jewelry designer.
Whether you want to adapt an heirloom piece or create something totally new, be sure to work with a reputable designer who has experience with heirloom jewelry. At Gilmore Family Jewelers we have the experience and expertise to transform your heirloom jewelry into something you absolutely love, all with care and precision.
Contact Us For Your Custom Jewelry Design Consultation