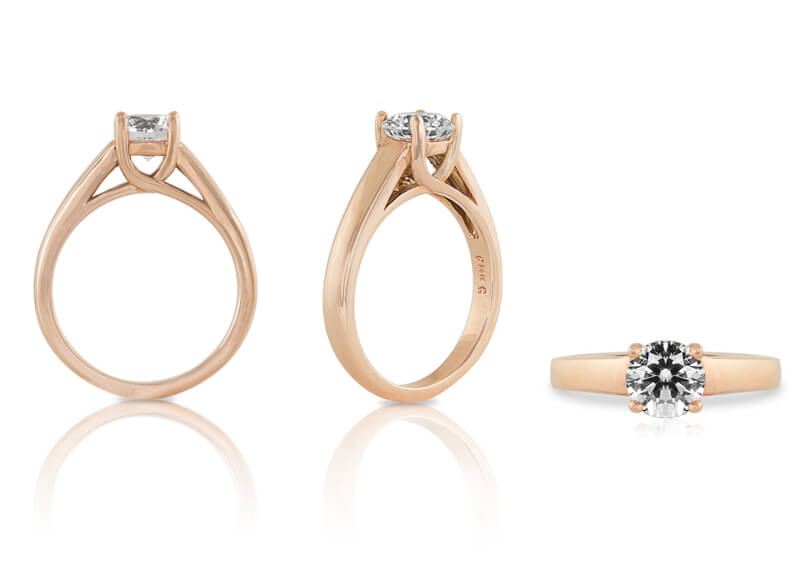 Whether you've been together for five months or five years, you know she's the one. You're ready to take the big leap and propose, but there's a lot to do before you pop the question.
Alex Gilmore of Gilmore Family Jewelers shares a few tips on how to craft a custom engagement ring that expresses your love—and your soon-to-be fiancé's style.
Where to begin: the budget
"Figure out how much you have to spend," suggests Alex. "Never go into debt for a ring. You have a lot of expenses, including an upcoming wedding."
What about that old suggestion about spending three months' salary on a ring? That's the advice from a very successful 1930s advertising campaign by De Beers Diamonds. No, you don't have to spend that much.
But if money is a little tight, remember that you only have to buy the engagement ring now. You can purchase the wedding ring closer to your big day.
How to choose a fabulous custom engagement ring—and still keep the proposal a surprise.
Of course you want to keep the proposal a secret, but you also want to make sure she'll love it.
Alex has a wonderful suggestion: "Pick out a beautiful diamond and set it as a simple solitaire. Then you can come back together and create a custom ring." Gilmore Family Jewelers will apply the price of the solitaire setting towards the price of the custom design.
Rock 101.
This is probably the first time you've ever shopped for precious stones. "We always like to begin a shopping session with a quick lesson on what makes a good diamond," says Alex.
Basically, a diamond is graded four ways (known as the 4Cs):
Color rating is based on lack of color.
Clarity is the lack of blemishes & inclusions.
Cut refers to how a diamond's facets interact with light.
Carat weight refers to the size of a diamond. A carat is 200 milligrams.
Always buy the highest quality diamond you can. Clarity, color, and cut trump carat weight every time. It's better to have a smaller, quality diamond than a huge yellow one.
Of course, you don't have to buy a diamond just because it's a 20th-century tradition. You can always choose another type of stone and build your design around that.
"The days of only getting a diamond for an engagement ring are over—which gives you many more fun options," says Alex.
The Discovery.
Designing a custom engagement ring begins with a consultation between you and one of the Gilmore's at our showroom. We will listen carefully to your ideas about the piece and share some ideas of our own.
There are a few ways you can share your ideas with us:
Look in magazines for rings you like.
Create a Pinterest board of your favorite elements.
Draw a sketch of what you love.
Write a few words to describe the way you want your ring to make you feel.
"The more input you provide us with, the more we'll be able to create just what you want," says Alex.
The Design.
Depending on the design chosen, you'll be shown a hand-drawn sketch, a carved wax model or a computer-designed drawing (each method demonstrates different designs differently). Take the time to sit with the design and give us any feedback. Remember, this is a custom engagement ring and design—we want it to perfectly reflect your style.
The Crafting.
Now it's time to create your ring! The wax model is cast in the chosen metal, or the computer-designed drawing is 3D-printed in wax and then cast in metal. Hand-constructed items are built in the chosen metal, piece by piece.
The stones are set, and polishing begins. We pay a lot of attention to the finishing—it makes all the details stand out.
Engagement and wedding rings as a pair.
While you're designing your custom engagement ring, be sure to consider the wedding ring in your design. Is she going to be wearing them together? If so, the engagement ring needs to be designed so the two rings can nestle together.
Men deserve nice rings, too.
It takes two people to get married. Guys deserve quality bands, too.
"If you're going to wear a ring for a lifetime, you should invest a little time and effort into it for the greatest enjoyment," says Alex.
There are some very cool new techniques for crafting men's rings. For example, if you're interested in something less traditional, you can combine titanium and stainless steel with wood, or titanium with rose or 18k gold—there's a huge range of possibilities when it comes to creating your own unique piece.
Next steps.
So what's next? "It might be old-fashioned, but asking the parents of the bride before you propose is a classy move," says Alex. "Your fiancé's parents will really appreciate it."
Now it's time to propose. Make it thoughtful and memorable.
Contact Us