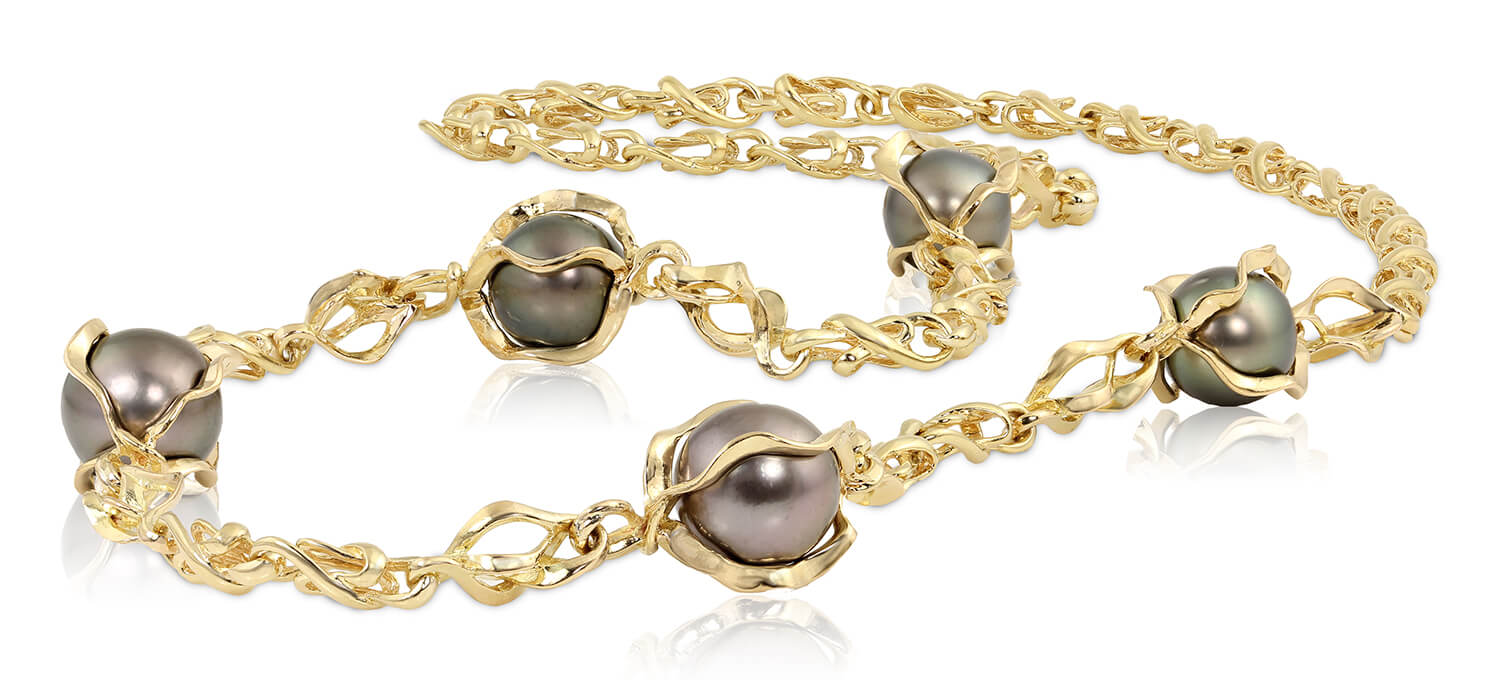 One of our favorite custom jewelry pieces of all time was our "Captured Pearl Necklace," a yellow-gold necklace with five beautiful, large, unblemished matching Tahitian pearls.
Tahitian Pearls
Tahitian pearls were being cultured (grown) in the 1960's with the aid of Japanese technicians on pearl farms in French Polynesia. Their pearls are noted for their size, luster and orient. They have an unusual grey to black change of color, which is especially stunning. If you are interested in more information, the Gemological Institute of America's (GIA) website has some wonderful informative articles about these exquisite pearls. www.gia.edu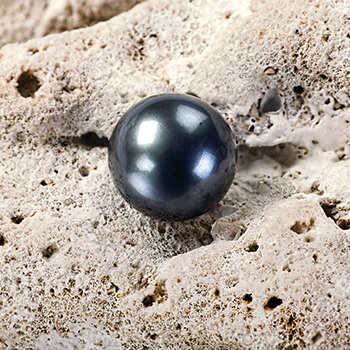 On With Our Story…
We were fortunate to have a friend who was working on his gemologist degree at the GIA in Carlsbad, CA, where he met a young man from Tahiti. This friend had a family-owned pearl farm and he was financing his education in the U.S. by selling pearls.
We arranged to see the pearls, and once we saw them we were excited to offer them to our clients. His selection of matched pearl necklaces and large, undrilled single pearls was extensive, and our clients were instantly drawn to them. As always, the provenance of what we choose to show our clients was of the utmost importance and we felt very comfortable with this source.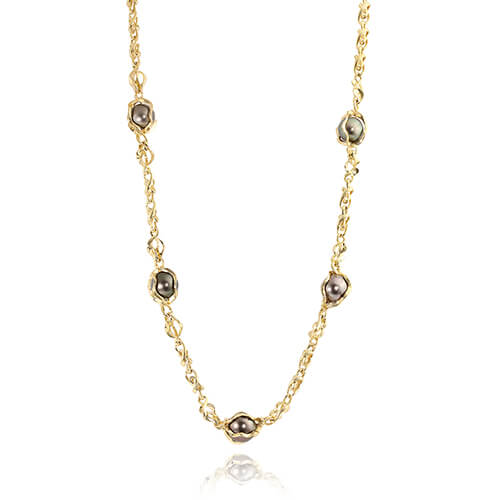 Five Stunning Pearls
We were able to high grade a group of five single, matching pearls—perfectly soft grey in color, beautiful luster, 15mm each and undrilled. What a find!
One of our dear clients decided these pearls would make a lovely statement necklace for his wife for Christmas. We agreed, and began the search for the best, most unusual way to package them for gift giving.
Beth and Alex puzzled over this for a couple of days, and finally a light bulb went off. Why not package these dark pearls in an unassuming box of Godiva chocolates? We removed five pieces of candy and nestled our pearls in the empty spots. It was perfect! Our client's wife was delighted with her gift, and we began the design process in January.
The Setting
We were sure of one thing: We did not want to drill a hole in the pearls to attach them to a setting. Gary began playing with the idea of aquatic grasses tangling around the pearl, suspending it in a cage. He carved a soft, curvy open framework in wax. The pearl could then be placed in the setting without the need for a hole, but the fit had to be perfect so the pearl didn't move too much and become damaged. The pearl also needed to slip through the tendrils after casting and polishing.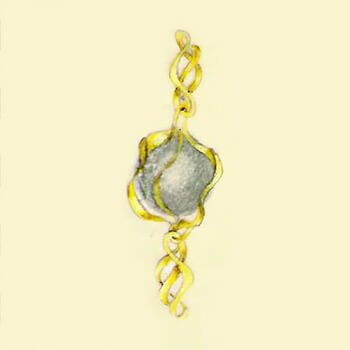 By utilizing the malleable tendency of gold and moving one of the tendrils to the side, the pearl could slip smoothly into place. The tendril was then moved back into place and the cage was complete. The pearls move in their cages just slightly and remain undrilled. We connected the cages with gold links and created a lovely necklace that our client treasures to this day.
A Gilmore Family Original Series
We have wanted to expand on this idea of capturing pearls in their natural undrilled state, so we created a series of Captured Pearl Pendants. The grey Tahitian pearls are set in a white gold cage, the golden pearls in yellow-gold and the soft pink pearls in rose-gold. Each of these cages have been carved to fit the unique pearl inside.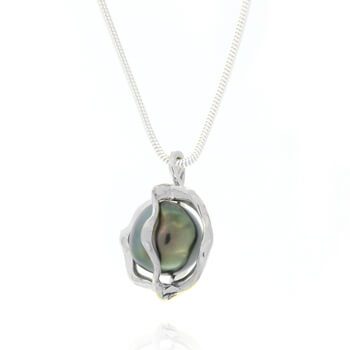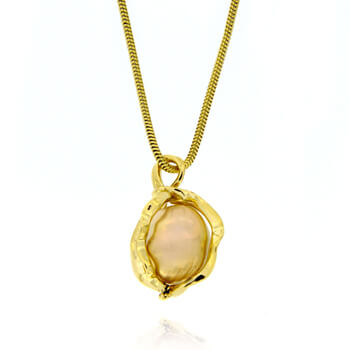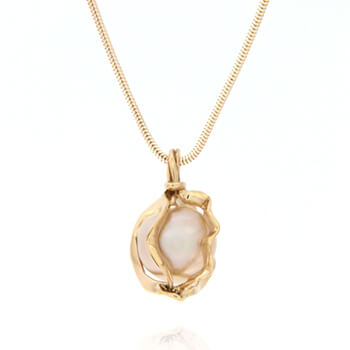 These are the first pieces offered in this collection. We hope you enjoy this unique setting, brought to you with craftsmanship and a passion for creating beautiful jewelry. Contact us if you would like to see these designs at our studio.